Protect your applications from known vulnerabilities
Snyk continuously monitor your applications dependencies and to
quickly respond when new vulnerabilies are disclosed.
Find
Find Javascript, Ruby and Java vulnerabilities with Snyk CLI
Check all your Javascript, Ruby and Java GitHub repos for vulnerabilities
Scrutinise open source packages before using them
All powered by Snyk's own vulnerability database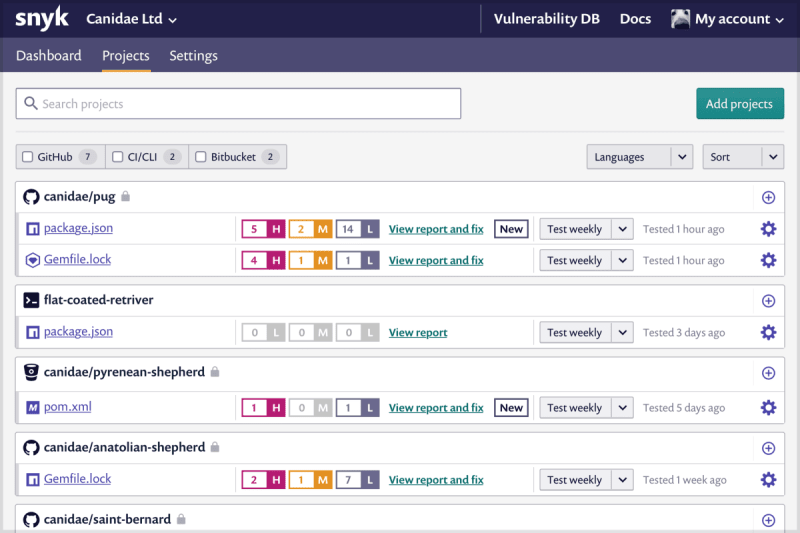 Monitor
Get visibility of your deployed applications dependencies
Continuously test your applications for known vulnerabilities.
Real time alerts when new vulnerabilities affect your code.
Support for AWS Lambda and Heroku apps.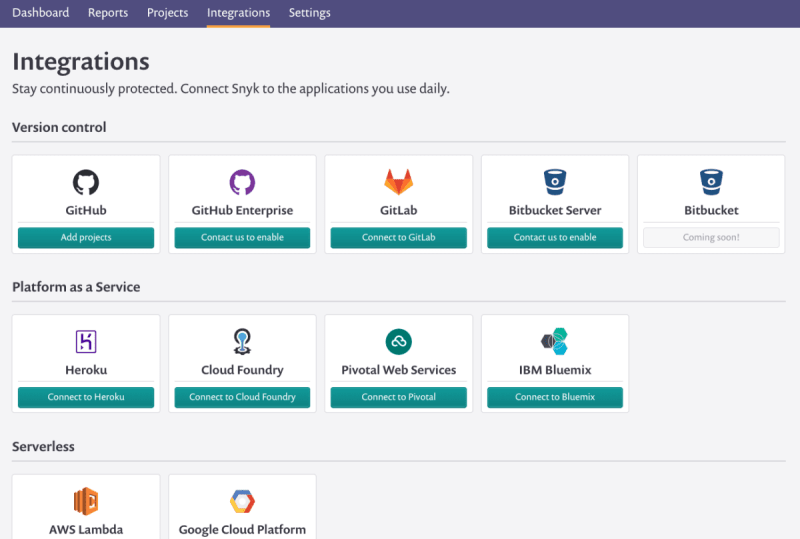 Fix
Upgrade or patch vulnerable dependencies
Get pull requests from Snyk with fixes for your Node.js and Ruby GitHub repos
Create pull requests with the fixes you want
Use the interactive Snyk wizard for Node.js to apply fixes quickly



?

 

High severity vuln found in handlebars@3.0.0,
  introduced via handlebars@3.0.0




-

 

desc: Content Injection (XSS)




-

 

info: https://snyk.io/vuln/npm:handlebars:20151207




  Remediation options




> Upgrade to handlebars@4.0.0 (potentially breaking change)


  Patch (no patch available, we'll notify you when there is one)
  Set to ignore for 30 days (updates policy)
  Skip
Alert
Get alerted when newly disclosed vulnerabilities affect your projects
Email and Slack notifications for new vulnerabilities and fixes
Automatic GitHub pull requests to fix the new vulnerability
Comprehensive information and remediation guidance for vulnerabilities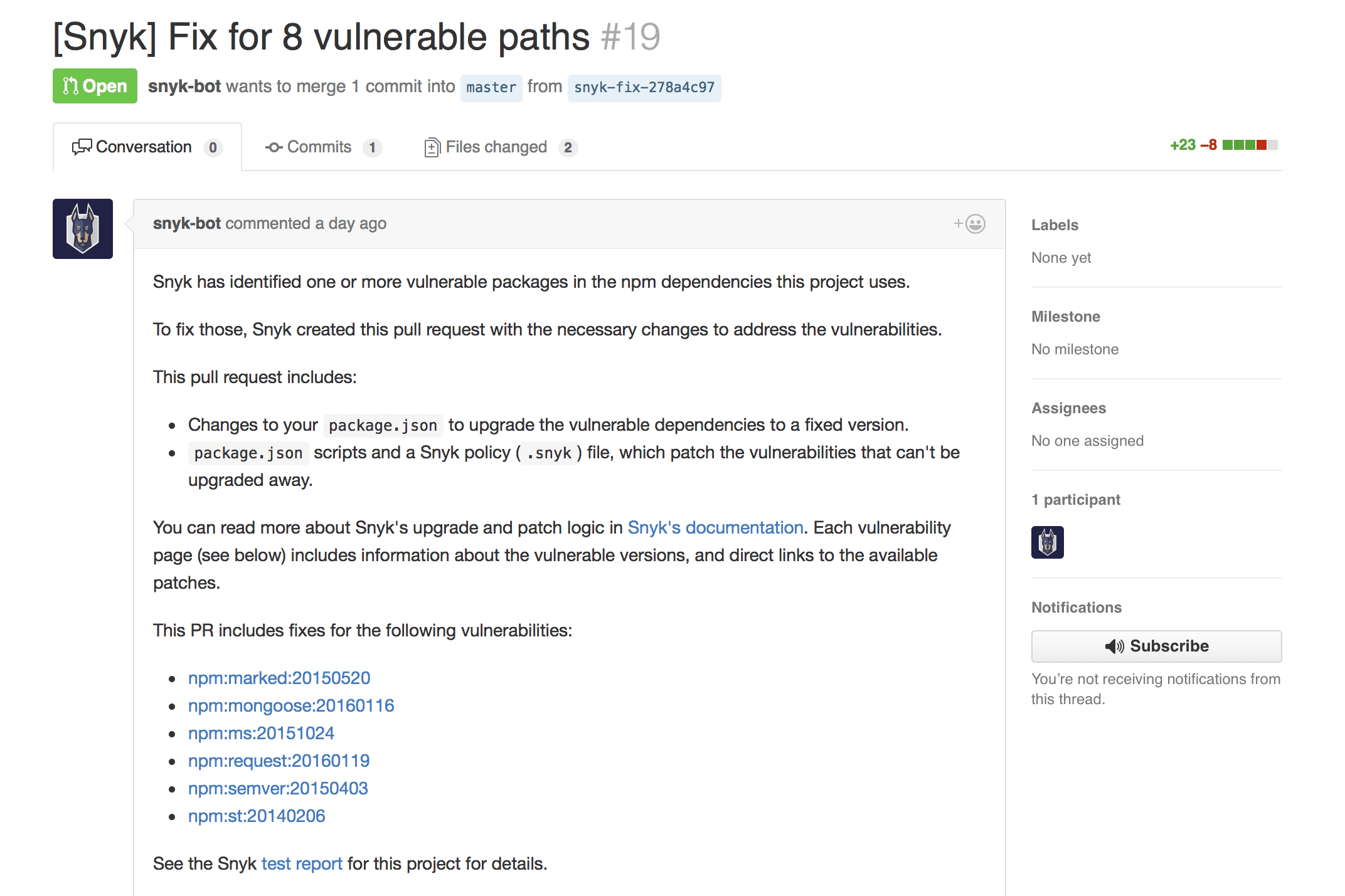 Prevent
Snyk tests in your GitHub pull requests flag code changes that add vulnerable Node.js, Ruby and Java dependencies
Add snyk test to your Continuous Integration process to fail tests when Node.js vulnerabilities are detected
Customise for which severity level tests should fail, to suit your team's needs and priorities

Integrate
Watch your GitHub repositories automatically for security issues
Add Snyk to your Continuous Integration and Deployment process
Modify the Snyk policy to make the integration work for your team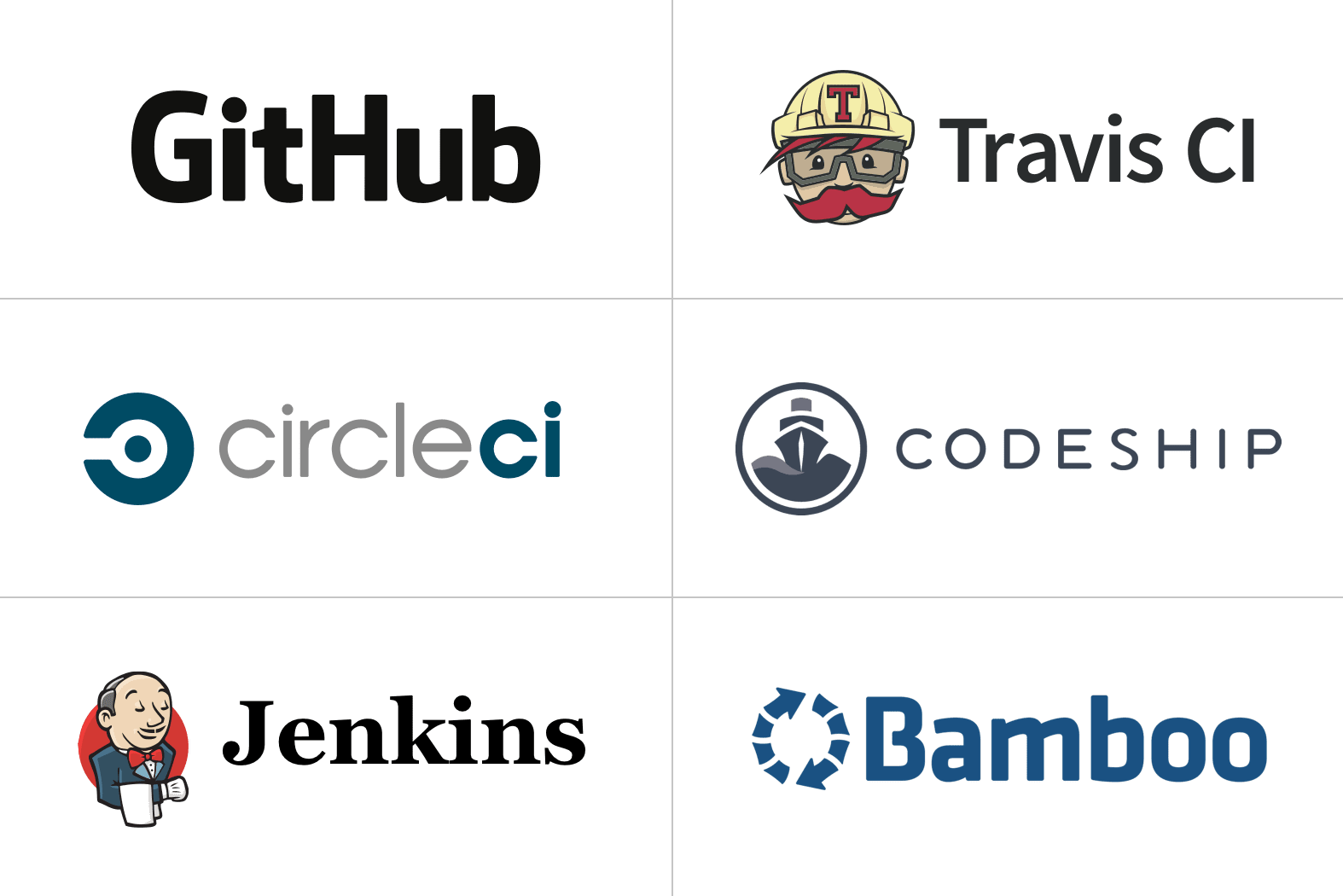 Collaborate
Use Snyk Organisations to collaborate with your team
Administrator and Collaborator roles
Enable team members to find and fix vulnerabilities
Get the right people alerted about newly disclosed vulnerabilities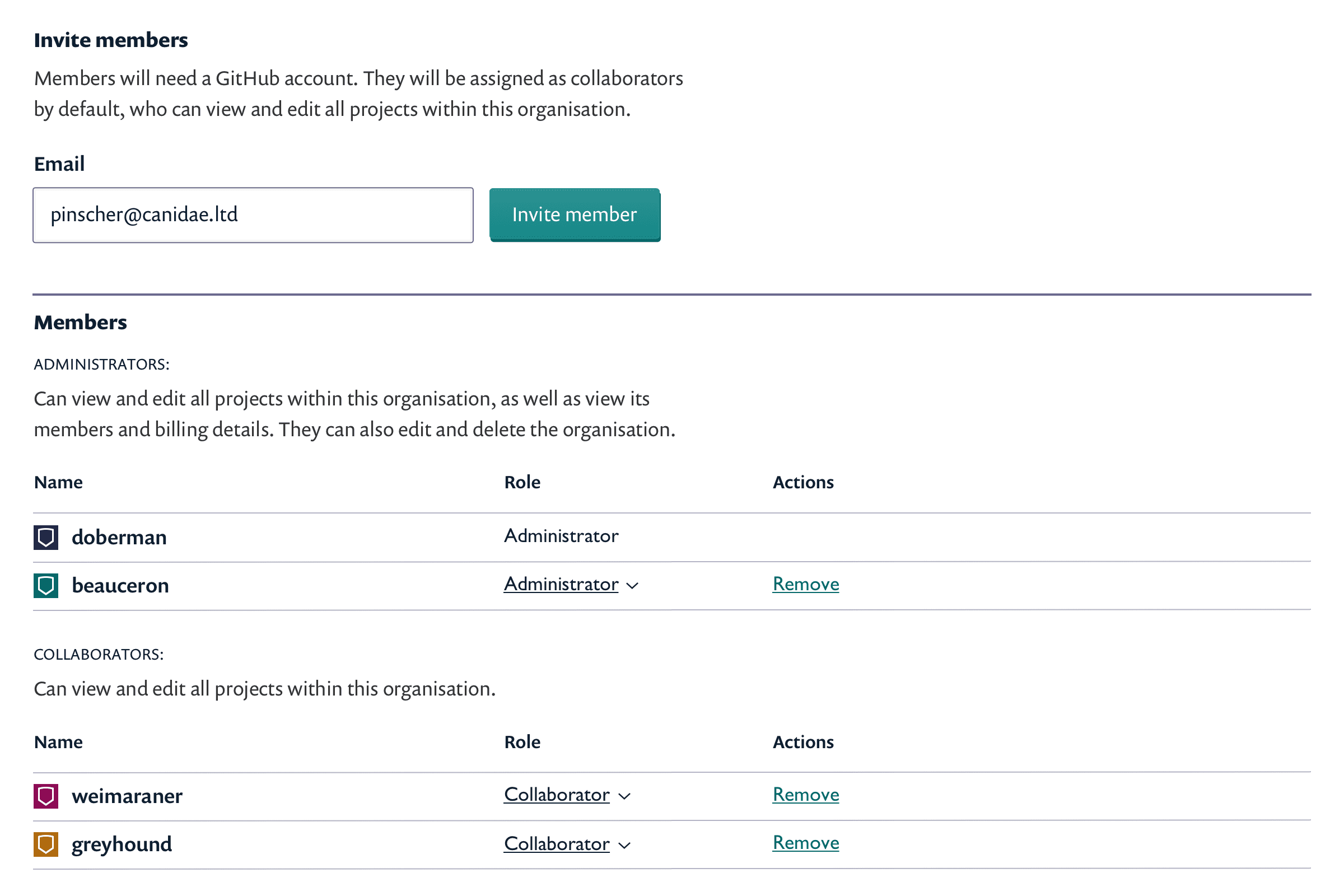 Learn
Subscribe to Snyk's vulnerability database to find out about new vulnerabilities first
Learn about exploitability and recommended remediations
Curated by Snyk's own research team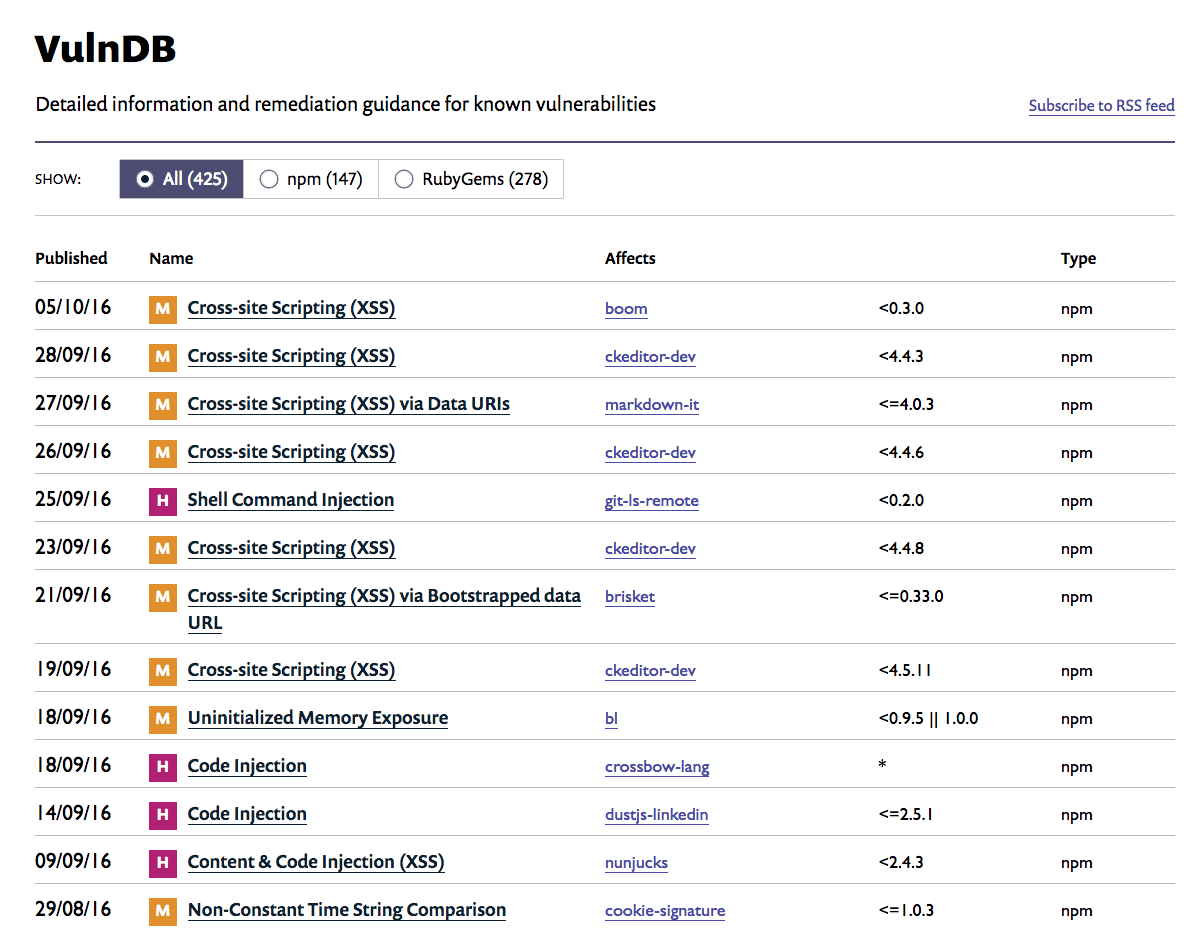 Find out if you have vulnerabilities that put you at risk