Announcing Snyk for Bitbucket Pipelines

Guy Podjarny
At Snyk, our goal is to build security tools that easily fit with your existing workflow. This is why we're excited to announce Snyk for Bitbucket Pipelines, making it easy to stay secure if you're managing your work with the Atlassian product stack.
Bitbucket Pipelines, which is just coming out of beta this week, lets you build, test and deploy from Bitbucket. It's easy to set up and configure, and part of what makes it great is the selection of integrations - and we are one of them.
Find and fix vulnerabilities with Snyk's Pipelines integration
This demo video shows how Snyk's Bitbucket Pipelines integration flags security issues, and how to fix the vulnerabilities with snyk wizard.
How to set up the integration
To get started with Pipelines, add the Bitbucket Pipelines add-on and enable it for the repository in question. After creating a .snyk policy file, you need to create a bitbucket-pipelines.yml file which will configure Bitbucket Pipelines. You can also adapt an existing bitbucket-pipelines.yml file.
Head over to our step-by-step documentation.
Fixing Serverless Security Vulnerabilities
October 20, 2016
Well over 80% of successful exploits today occur due to unpatched servers. Approaches such as Serverless & PaaS should dramatically reduce the risk of outdated binaries. Unfortunately, this transition does nothing to secure open source code packages.
Launching "The Secure Developer" Podcast
October 11, 2016
We all want to build security into our dev process, but how? The new "The Secure Developer" brings dev leads, AppSec thought leaders and security tools builders to share experiences, techniques and tools to help you build security in.
Subscribe to The Secure Developer Podcast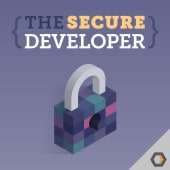 A podcast about security for developers, covering tools and best practices.
Interested in web security?
Subscribe to our newsletter:
Get realtime updates and fixes for JavaScript, Ruby and Java vulnerabilities that affect your applications