Building Security Tools Developers Love

Guy Podjarny
In the latest episode of "The Secure Developer", I had the pleasure of interviewing Sabin Thomas, VP Engineering at Codiscope.
Sabin's career took him from developing software for security conscious organisations to developing security tools for developers working in such environments. We spoke about many things, notably including:
The importance of security education, to complement security automation
What's different about building security tools for developers, as opposed to security people?
How a developer's style or platform impacts the security support they need
I hope you enjoy the episode, and would love to hear your feedback on @thesecuredev on Twitter. Don't forget you can subscribe to the podcast on iTunes, SoundCloud or various other spots.
Launching Serverless Snyk
November 03, 2016
To simplify the task of keeping dependencies in your Serverless application free of known vulnerabilities, we're launching the Serverless Snyk plugin.
Yarn is Micro Secure
October 25, 2016
Yarn markets itself as "ultra fast", "super reliable" and "mega secure". While it's true that Yarn is often much faster, and that the new lockfile ensures more consistency when your application is installed, the security claims are a little over-optimistic.
Subscribe to The Secure Developer Podcast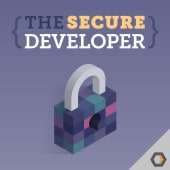 A podcast about security for developers, covering tools and best practices.
Interested in web security?
Subscribe to our newsletter:
Get realtime updates and fixes for JavaScript, Ruby and Java vulnerabilities that affect your applications