Groups
Groups is a Pro and Enterprise Plan only feature that makes it easier for you to work within teams. Groups can hold many organisations, and each organisation can contain many collaborators.
As well as creating organisations within your enterprise groups, you can also create them within your own personal group. This is ideal if you want to monitor your own personal projects outside of your enterprise's group, or if you want a sandbox to play with.
As part of your Snyk on-boarding, we will set you up with a group for your enterprise. You can then add your enterprise's organisations to the group. If you think you will need multiple groups please email support@snyk.io
Within a group, you can create organisations. To add a new organisation within your group, click the "Create a new organisation" link in the organisation switcher.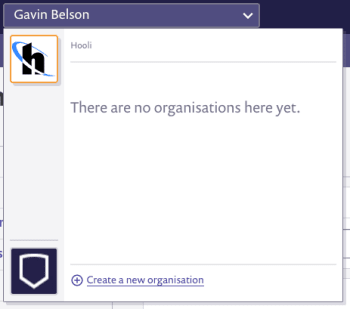 This will let you choose a name for your organisation, and select which group it belongs to.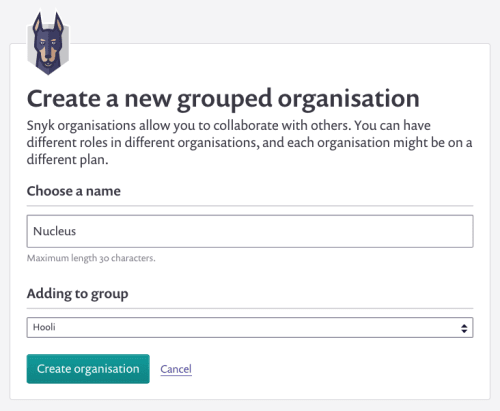 If you do not see the "Create a new organisation" link you do not have the "group admin" permission set on your account. Email support@snyk.io to ask to have the have the permission set.
To access your groups and organisations, click on the navigation switcher. The avatars displayed on the left are your groups, and the list on the right are the organisations that are within the group.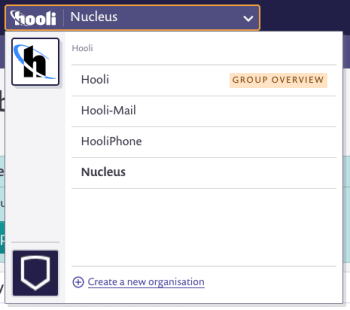 Clicking the avatar on the bottom of the switcher will display the organisations within your personal group. (This may not be visible to you depending on your enterprise's setup.)
The group overview area allows you to view reports across all of your group's organisations, and configure your group settings.
Settings
Within the group overview, you can also view all of a group's members. Note that these aren't members of your organisations (who are managed within the organisation's settings area), but are members who can access all organisations within that group.
Combined reports
From the group overview, the vulnerability status of all of a group's organisations are visible in one place as a report. You can select which organisations you wish to compare via the filter dropdown. This will set the context for all the tabs within the reports, where you can continue to filter other values such as type, status and package manager.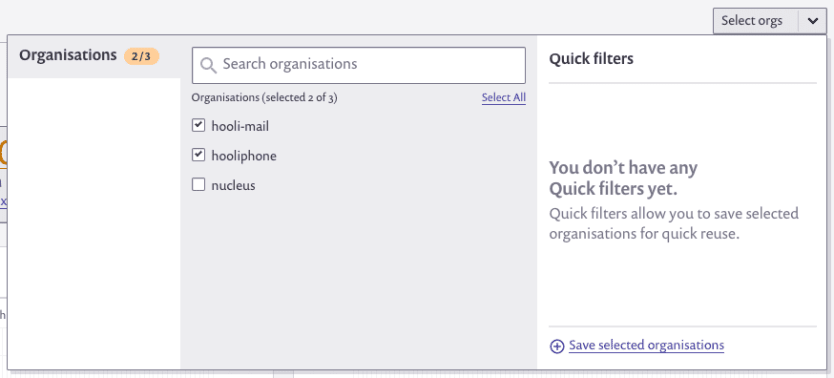 Quick Filters
If there's a view you refer to frequently, you can save this as a Quick Filter.